BD 210, Stones Tea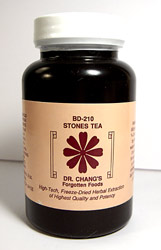 £ 44
Commentaries:
Common cold, flu.
Pleurisy.
Stomach and intestinal ulcers.
Acute hepatitis (pain, fever),
Jaundice, malaria.
Gallbladder and kidney stones.
Pancreatitis.
Acute pneumonia.
Night sweating.
Bed wetting.
Epilepsy.
Glaucoma.
Skin rashes, itching and dry skin.
Various abdominal pains.
Ingredients: Bupleurum, Pinellia, Cinnamon, Paeonia, Scutellaria, Chinese Ginseng, Jujube, Licorice, Zingiber
Combination's Energy Level: Low Warm
Combination's Taste: 30%Bitter, 30% Piquant, 30% Sweet, 10% Sour
Main Meridians: Energizes H primarily and L, K and B; secondarily, sedates LV and GB.