BD 212, Dissolving Tea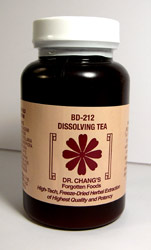 £ 44
Commentaries:
Benign tumors of any kind, including brain tumor.
Malignant tumor, enhancement of this combination by GT-701.
Ingredients: Laminaria, Sargassum, Phellodendron, Anemarrhena, Trichosanthes, Adenophora, Scirpus, Zedoaria, Forsythia, Coptis, Scutellaria, Gardenia, Peuraria, Bupleurum, Tang Kieu, Gentiana, Licorice, Cimicifuga, Ginger.
Combination's Energy Level: Cool
Combination's Taste: 55% Bitter, 17.5% Piquant, 17.5% Sweet, 10% Salty
Main Meridians
: Primarily: K; Secondarily L, LI, GB, LV, H and HC.