BD 213, Circulation Tea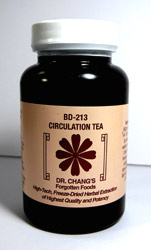 £ 44
Commentaries:
Arthritis, bursitis.
Nerve inflammation.
Tennis elbow.
Disc problems, including slipped disc.
Old injuries; dissolution of blood clots.
Pain; sciatic nerve and spinal.
Frostbite; in conjunction with Royal Jade Cream.
Charley horse cramps.
Bone inflammation.
Injuries to joints, ligaments and cartilage.
Rheumatoid arthritis.
Ingredients: Tang Kuei, Anemarrhena, Capillaris, Angelica, Polyoporus, Alisma, Atractylodes, Siler, Pueraria, Ginseng, Zingiber, Sophora, Cimicifuga.
Combination's Energy Level: Low Cool
Combination's Taste: 50% Sweet, 25% Bitter, 20% Piquant, 5% Salty
Main Meridians: Sedates K; Energizes H and L.