BP 402, Cleansing Tea (2)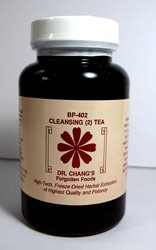 £ 44
Commentaries:
Cancer and lumps in female system (breasts, uterus, etc.)
Cancer in lymphatic system.
Lupus.
Syphilis.
Herpes; Shingles.
AIDS.
Body damage from exposure to radiation.
Computer related carpal tunnel syndrome
Ingredients: Tang Kuei, Paeonia, Cnidium, Lithospermum, Rhubarb, Cimicifuga, Astragalus, Gigas, Licorice, Lonicera.
Combination's Energy Level: Low Cool
Combination's Taste: 30% Sweet, 25% Bitter, 20% Piquant, 15% Salty, 10% Sour
Main Meridians: K and HC.