BP 409, Blood Purifying Tea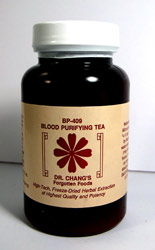 £ 44
Commentaries:
Lupus.
Genital herpes; certain skin rashes.
Various infections in the lymphatic system; ear leaking; ulcers and pus sores on the body.
Rectal infections, such as infected hemorrhoids.
Poison oak.
Ingredients: Ginseng, Bupleurum, Adenophora, Angelica, Laxiflora, Poria, Dahurica, Cnidium, Honeysuckle, Gladitschia.
Combination's Energy Level: Low Warm
Combination's Taste: 55% Sweet, 30% Piquant, 15% Bitter
Main Meridians: LV, H and S.