GT 705, Chest Strengthen Tea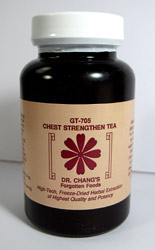 £ 44
Commentaries:
Chronic lung problems: chronic TB, asthma and emphysema.
Lung cancer.
Over-perspiration in weak people.
Shortness of breath.
Heart and spleen pancreas dysfunctions, including hypoglycemia.
Lung recovery, such as after impairment from injury.
Fungus in lungs.
Ingredients: Astragalus, Ginseng, Atractylodes, Tang Kuei, Bupleurum, Ginger, Jujube, Citrus, Licorice, Cimicifuga.
Combination's Energy Level: Near Warm
Combination's Taste: 50% Sweet, 25% Piquant, 25% Bitter
Main Meridians: Primarily: SP, then L; Secondarily: S, TH, H and LI.