GT 710, Rebuilding Tea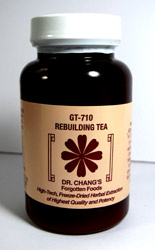 £ 44
Commentaries:
Stroke recovery, including paralysis.
Revitalization of the brain cells and nerve cells and adjusted coordination between the brain and nervous system.
Adjusted blood pressure (high or low).
Parkinson's Disease.
Encephalitis.
Arthritis (cripple).
Nervous disorders in the face and eyes.
Ingredients: Bitter Almond, Ephedra, Cinnamon, Ginseng, Tang Kuei, Cnidium, Zingiber, Licorice, Gypsos, Acorus.
Combination's Energy Level: Middle Warm
Combination's Taste: 50% Sweet, 30% Piquant, 20% Bitter
Main Meridians: Primarily: LV, H, SP and L.