WD 301, Regeneration Tea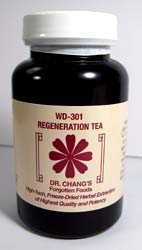 £ 44
Commentaries:
Diabetes; increase of pancreas function and regulation of blood sugar over a long period of time.
Sexual disorder, including impotence, testicle infection and premature ejaculation.
Kidney infections, kidney stones.
Cataract, glaucoma.
Ringing ears.
Gout.
High blood pressure.
Water retention.
Stomach infections, indigestion.
Revitalization of kidneys, (enhanced benefits with GT-701 in dialysis cases).
Pain or swelling in legs.
Stopping of internal or external hemorrhage.
Ingredients: Rhemannia, Cornia, Dioscoerea, Alisma, Poria, Suffructicosa, Cinnamon, Aconite.
Combination's Energy Level: Neutral
Combination's Taste: 65% Sweet, 30% Salty, 5% Piquant
Main Meridians: Rather balanced but sedates H mainly and also LV; Energizes S, L and K.